Container Van Hotel. Yes, you read it right!
Carcar Eco Farm Resorts hotel is made of container vans. First in Cebu!
Inspired by the 4Rs concept, the owner thought of transforming the container vans into amazing and cozy buildings. The resort currently has a three-storey hotel with 10 rooms. For accessibility purposes, all our rooms are strategically located close to the swimming pool.
Our standard bedroom has a single double-sized bed best for couples and a family of 4 pax.
Features
• 1 double-sized bed
• Complimentary breakfast for two

Amenities
• Hot and Cold shower
• Split type inverter aircon
• WIFI
• 40" Smart TV, access to Netflix,
YouTube and Cignal TV
• Cabinet for your personal belongings
• Two chairs and two tables
• Refreshment Corner
Room-in-Time
2 pm
Room-out-Time
12 noon
₱ 2,500
₱ 500.00 (extra Bed/Mattress)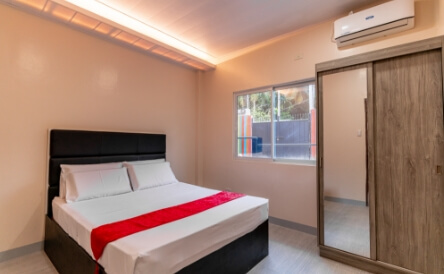 Book Now
Our Barkada room has two single-sized beds recommended for a group of friends and/or workmates up to 4 pax.
Features
• 2 single-sized beds
• Complimentary breakfast for two

Amenities
• Hot and Cold shower
• Split type inverter aircon
• WIFI
• 40" Smart TV, access to Netflix,
YouTube and Cignal TV
• Cabinet for your personal belongings
• Two chairs and two tables
• Refrigerator
• Refreshment Corner
Room-in-Time
2 pm
Room-out-Time
12 noon
₱ 2,500
₱ 500.00 (extra Bed/Mattress)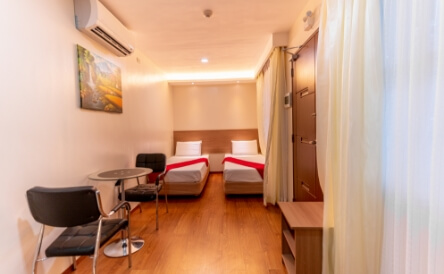 Book Now
Spend your vacation at Carcar Eco Farm Resorts
Book Now